Belgian SOE Agent's Name Corrected on the Memorial to the Missing 1939-45, Brookwood Military Cemetery After 63 Years – All Thanks to the SWW2LN.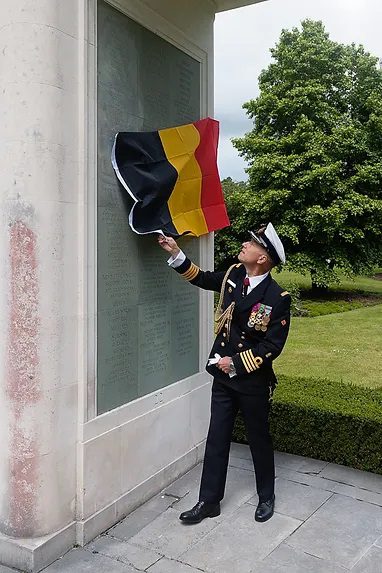 Belgian Defence Attaché, Captain (N) Renaud Flamant visited Brookwood on Sunday, 4th July 2021. He was taking part in the monthly Last Post ceremony in which he highlighted the death in service of Sergeant René Michaux, one of four secret agents of Belgian nationality buried or commemorated in Brookwood Military Cemetery. Michaux's is the only burial, the other three agents are listed on Brookwood's Memorial to the Missing 1939-45 and one of those, Lt Pierre Geelen, had been incorrectly listed under his training name, Pierre Garde, since the Memorial was inaugurated in 1958.
Research by and documentation from The SWW2LN convinced the Commonwealth War Graves Commission of the error and re-engraving recently took place. Captain Flamant, escorted by Paul McCue (SWW2LN Trustee), Eddie Jones (SWW2LN Volunteer) and Kevin Dais (Chair of the Brookwood Last Post Association, unveiled the new, correct, name from beneath a Belgian flag.
After visiting the Belgian burial plot in the cemetery and in particular the grave of Sgt René Michaux of T (Belgian Section) SOE, Captain Flamant then spoke of him at the Last Post ceremony.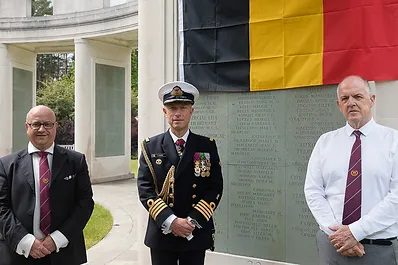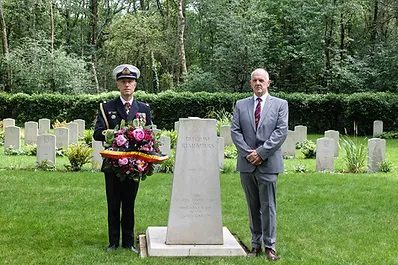 René Michaux was born in Tamines, Belgium on 2nd February 1922. After his schooling, he trained and served in the Belgian Merchant Navy. At the age of 19, he came to England in July 1941 and lived in Liverpool from where he continued to serve on ships of the Belgian Merchant Navy, operating on behalf of the Allies, rather than return to Nazi-occupied Belgium. Both his parents had died and he is not recorded as having any brothers and sisters.
In March 1943 he volunteered for the Belgian Section (T Section) of SOE. He began his training in Surrey, at Special Training School 4 (STS 4), at the house 'Winterfold' in Cranleigh Surrey. After his initial training, he undertook paramilitary training in Inverness-shire, Scotland and parachute training at RAF Ringway, now Manchester International Airport. He continued his training with a specialist radio operator's course at Thame Park in Buckinghamshire in August and September of 1943 and then completed his training at one of SOE's 'Finishing Schools' at Beaulieu in Hampshire in November 1943. He was given the rank of Sergeant in the Belgian Army.
He was allocated the codename Lucius and was one of four agents of Belgian Section (three Belgian and one British) to be dropped into occupied Belgium in operations TYBALT 3 and THERSITES 4 on the night of 7/8 January 1944.  The flight was undertaken by a Halifax aircraft of 138 Squadron from RAF Tempsford in Bedfordshire. The aircraft developed an engine problem and the operational drop of the agents could not be made. On its return to England, the port-outer engine would not feather and with his aircraft still heavily laden, Pilot Officer Kennedy could not keep control and the Halifax flew into Tetworth Hill on the final approach to the runway at RAF Tempsford. Only the British agent survived with slight injuries – the three Belgian agents and six RAF crew were killed as the Halifax crashed and burst into flames. Sgt Michaux was just 21 years old.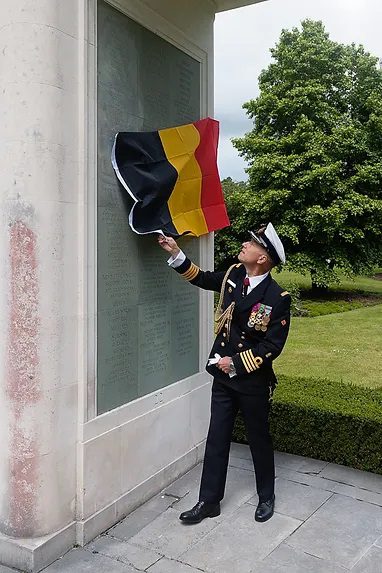 The three Belgian agents were initially buried in Bedford cemetery. The bodies of two were subsequently repatriated to Belgium after the war, but that of Sgt Michaux – with no immediate family in Belgium – remained buried in Britain and was relocated to Brookwood. He is buried in the Belgian plot, plot 26, in row D, grave 13.
Credits: Paul McCue
Photo credits: Tony McCullum 
Sources: The Secret WW2 Learning Network www.secret-ww2.net; UK National Archives file HS9/1028/6; and 'Agents by Moonlight' by Freddie Clark.