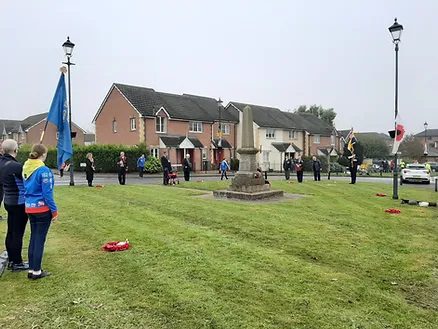 Remembrance Sunday and Armistice Day in COVID-Restricted November, 2020
On Remembrance Sunday, 8th November 2020, a wreath was placed during the RBL ceremony in Liss, Hampshire, commemorating the trainee agents who passed through STS 3,Stodham Park, in the village 1941-1945.
And on Armistice Day in Brookwood Military Cemetery a SWW2LN wreath was placed by Eddie Jones (very local resident and SWW2LN volunteer) on the Memorial to the Missing 1939-45, in honour of the SOE agents listed there.
A wreath, poppy crosses and a Star of David were placed on the graves of the four SOE and Free French BCRA personnel in the French plot, where a 'bubble' from the French Embassy in London, including the Ambassador, Catherine Colonna; Defence Attaché, Admiral Luc Pagès; and our good friend and SWW2LN supporter Guy Audibert, conducted a low-key act of remembrance.
A wreath was also placed at the RAF Shelter in Brookwood Military Cemetery in lieu of placing it at the Air Forces Memorial at Runnymede which, with non-essential travel limited, was a location too far. The wreath commemorated the nine agents of SOE and one of MI9, all serving in the WAAF or RAFVR, who are commemorated on the Runnymede memorial.
Sunday, 15th November 2020 was due to have been the first of what is planned to bean annual ceremony at Runnymede commemorating those ten 'secret war' personnel, plus the missing aircrew of the Special Duties squadrons, who are listed on the Air Forces Memorial. In its place, a brief online Remembrance ceremony was held via Zoom by just five members of The SWW2LN, joined remotely from his home in Crete by Bob Body, known to many of us as guardian of the memory of Tempsford airfield. Carol Browne read outa message in memory of Noor Inayat-Khan from Friend of TheSWW2LN, Humera Afridi in New York and Paul McCue read another submission from Friend Barbara Cronk of the family of Lilian Rolfe. Both Lilian and Noor are listed among the 10 commemorated at Runnymede. Bob Body submitted a taped address and poem in memory of the Special Duties aircrew.
A lone visit to Runnymede, independent of Remembrance ceremonies, produced this poignant image and sign of the times: