Valençay Annual Commemoration
Brookwood Military Cemetery 
'Replacement' Ceremony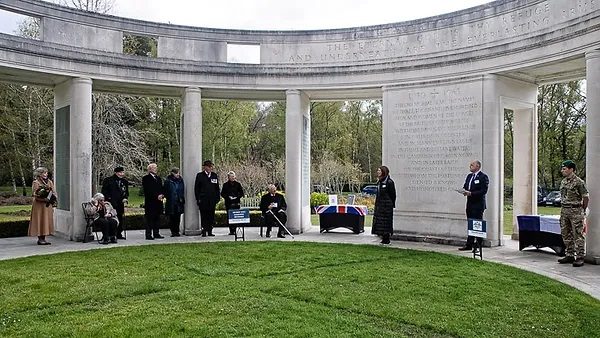 For the second year running, the annual ceremony at the F Section Memorial at Valençay in central France had to be cancelled, as a public event, due to the pandemic.
We at The SWW2LN were nevertheless aware that there were a number of UK-based relatives of agents waiting to attend a Valençay ceremony for the first time, principally those of the families of Captain Arthur Steele, Captain Charles Skepper and Ensign Eliane Plewman – all of the MONK circuit, principally based in Marseille. We therefore obtained permission from the Commonwealth War Graves Commission for a 15-person commemoration 'bubble' (in line with governmental guidelines) and invited family members who had recently been in touch with, or were subscribers to, the SWW2LN.
We were delighted to have family representatives for the above three agents, plus: the daughters of Captain George Menzies (aka Jean Mennesson) and Lieutenant André Dubois; the granddaughter of Ensign Yvonne Rudellat; and the great-niece of Ensign Madeleine Damerment. The latter, Zoe Brooke, is the standard bearer of the present-day FANY (PRVC), so her attendance was doubly appropriate and with two FANY colleagues, Caroline Squire and Sam Whiting, Zoe formed an impressive Colour Party, supported by Eddie Jones, cemetery resident and committed SWW2LN volunteer. We, too, benefited from the presence of an officer from the Intelligence Corps, based up the road at Pirbright Camp's Army Training Centre. Other SOE 'family' who attended included a relative of Flight Lieutenant Johnny Barrett – listed at Valençay, but in the UK (as RAFVR) on the Air Forces Memorial at Runnymede, and the son of an officer of T (Belgian Section) SOE.
​SWW2LN Chair, Louisa Russell and Paul McCue, Trustee, led the proceedings. For a two minutes' silence, Maj-Gen (ret'd) Dr Jonathan Bailey, a member of the Plewman family, gave The Exhortation and The Kohima Epitaph and Tony McCallum again kindly took the photographs. Relevant poppy symbols were displayed for the 104 F Section agents listed at Valençay, with photographs of 103 of them – only an image of Lieutenant Detal is still needed.