6th May 2023 – Annual ceremony at Valençay, Indre, France at the
F Section SOE Memorial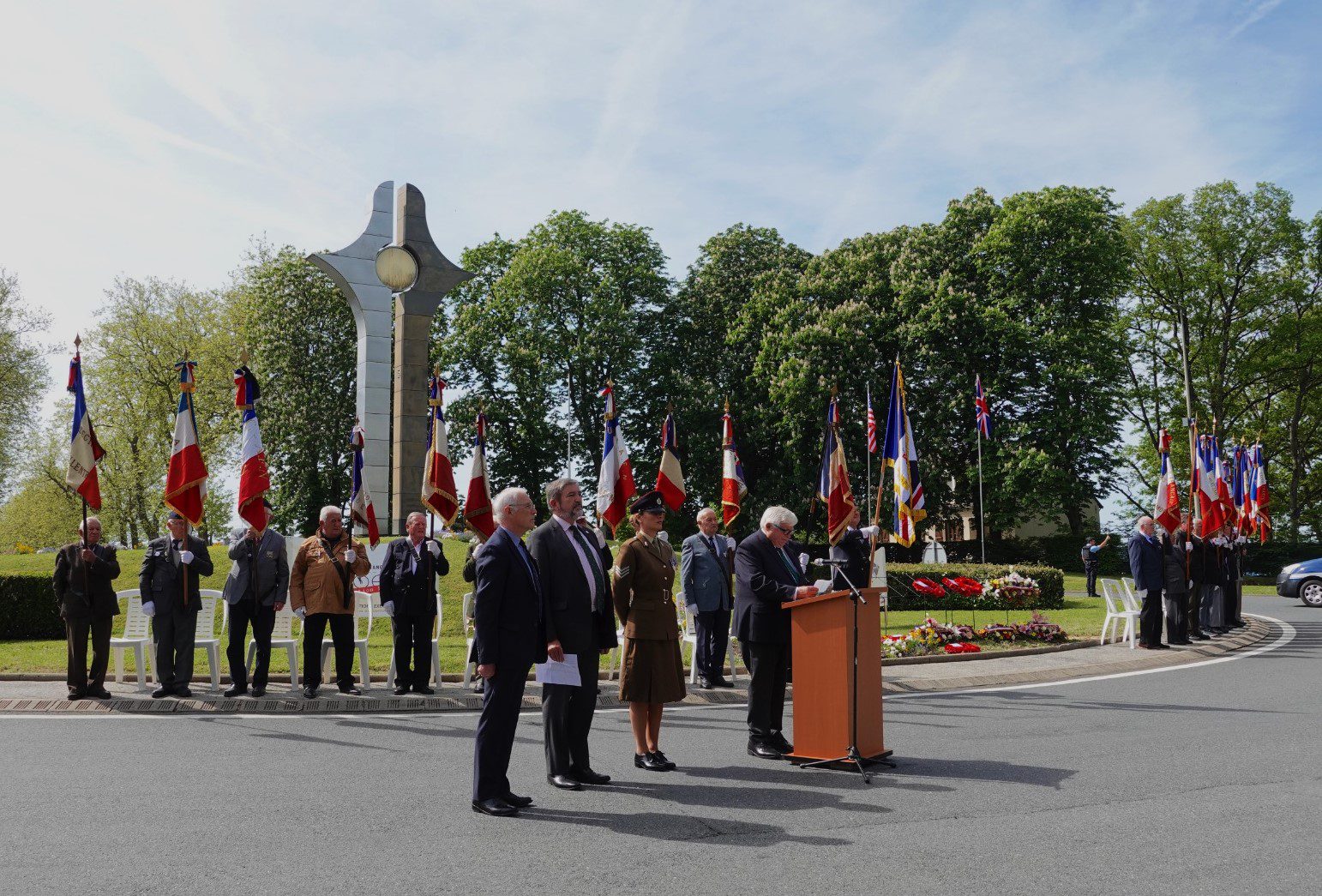 Despite a clash with the coronation of King Charles III, several Network Friends and Supporters made the annual pilgrimage to Valençay to remember the 104 agents of F (French) Section, SOE who did not return. Paul McCue, Nick Fox, David Harrison and Joan and Ray Munden were among those who risked being pilloried as republicans, while Friend of SECRET WW2 Peter Verstraeten came from Belgium and also attended the day before at Romorantin. Three UK military representatives from UK Strategic Command attended, with one speaking on behalf of the British Embassy in Paris and another assisting in reading out (below left) the names of the 104 F Section agents listed at the memorial.
Executive Trustee Paul McCue laid a wreath on behalf of SECRET WW2 while Peter Verstraeten placed one on behalf of the Fratenelle des Parachutistes, headquartered in Brussels.
It was Peter Verstraeten who had found and sent to Paul McCue the  previously missing photograph of Lt Julien Detal (first and second from left, below), a Belgian agent of the Belgian Intelligence Service and then of both T (Belgian) Section and F Section of SOE. The photo completed Paul's 10-year quest for the photographs of all 104 agents listed at Valençay and enabled him to present a replacement, photographically complete, Roll of Honour to the Tourism Office in the town.
It was good to see Pascal Juif (far right photo below, third from right) with his parents and son. Pascal's family were present when Diana Rowden and John Young, both commemorated at Valençay, were arrested and taken away…ultimately to execution. Pascal maintains contact with David Harrison (fourth from right) and Paul McCue.
In the afternoon, many of us attended elements of a three-part exhibition by the Valençay town council into the life of Max Hymans, local deputé and wartime receiver of Georges Bégué, the first F Section agent to be parachuted into France. The pictures below show the main part of the exhibition in the famous Château de Valençay. Our good friend Daniel Hymans is shown (brown jacket, photo on the far left, below) below a portrait of his father who was later head of Air France, and is pictured second from left.