Pre-publication launch of SAS: the Illustrated History of the SAS During the Second World War.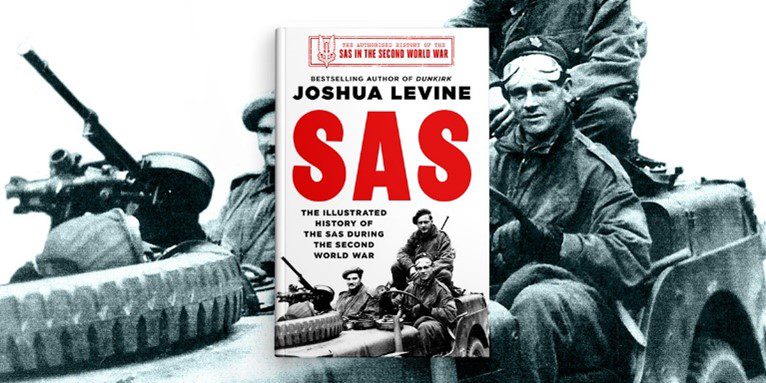 Trustee/Treasurer/Projects Officer Ashley Barnett attended the National Army Museum (NAM) pre-publication launch of SAS: the Illustrated History of the SAS During the Second World War.
In his new authorised history of the SAS, Levine tells the story of the small band of men who were brought together in the North African desert with the aim of delivering a radical new form of warfare.
To write the book, Levine had exclusive access to the SAS archives and was able to unlock never-before-seen photographs and unheard personal accounts that vividly portray what life was like in the early days of the unit.   In the NAM launch, Levine drew on individual stories and personal testimony, including interviews with veterans and family members of the original troupe, to examine what it was like to fight, train and live as a soldier in the SAS.
Fortunately , Treasurer Barnett was on hand to remind Joshua that his publishers are to channel a donation to Secret WW2, thanks to the generosity of our supporter and donor Jane Storey, daughter of one of the SAS officers (Major John Tonkin MC – pictured below) who features in the book.
Second row photos: Mrs Tamar Shani, daughter of a founder of kibbutz Gesher HaZiv, David Koren; the interior of one of the British Army buildings with enlarged photos from the Tonkin collection (see below) on the walls.
The following images, all believed to have been taken at Azzib, come from the John Tonkin collection. John (shown in the first picture below, sitting on his camp bed in a tent) was an officer of Lt-Colonel Paddy Mayne's Special Raiding Squadron, 1st SAS, at Gesher HaZiv (then Azzib).  The final image is of Paddy Mayne with his dog.
The photos are produced by kind courtesy of John Tonkin's daughter, Jane Tonkin.
And last, but far from least – one of our two Veteran Life Friends, Jack Mann….then and now.