BRIGHTON'S SECRET AGENTS
By Paul McCue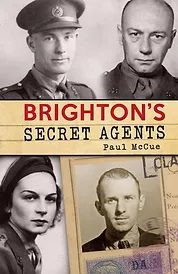 Winston Churchill authorised the creation of a new wartime secret service, the Special Operations Executive (SOE), with the order "And now set Europe ablaze". On behalf of The Secret WW2 Learning Network, an educational charity dedicated to revealing hitherto-secret operations to the current generation, Paul McCue tells a main story of four Brighton and Hove-born agents – which include Capt Ronald Taylor – being honoured with blue plaques.
He details the organisation's creation and post-war demise, its training methods and the missions of the four chief subjects. He also covers three other agents, a special duties RAF pilot and the inspiration for 'Q', the inspired 'boffin' from the James Bond films – all of whom had links with the city.
Some enjoyed great success, others were doomed to failure and death, but all displayed the volunteer spirit and courage that saw Britain through the darkest days of the Second World War. Their stories, largely little-known, deserve to be told.
Paul McCue has been a part-time military historian and author for over 25 years. He has authored four books to date and regularly gives talks and presentations in England and France. He currently specialises in the French Section of the Special Operations Executive (SOE) and is working on a three-volume roll of honour for this Second World War secret service.