THE TWISTED FLORIN: Evasion from France, Escape from Italy Squadron Leader John Mott MBE
By Stella Clare Marsh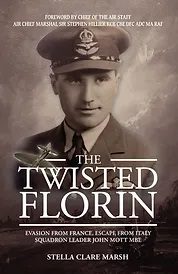 A compelling wartime adventure story following one of the Second World War's truly forgotten heroes, Squadron Leader Arnold John Mott MBE as told by his niece.
A very personal and evocative tale of one man's journey to war, and his work – first as a bomber pilot completing nineteen missions before being shot down, and then evading capture across the Pyrenees to return to duty flying Lysanders with the Special Duties squadron out of RAF Tangmere, including missions for the Special Operations Executive (SOE).
In 1942 his Lysander got bogged down and John was captured, but following the Italian armistice he managed to escape into the Alps through Yugoslavia to rejoin service, this time with No. 1 Special Force due to his unique knowledge of a specific partisan group.
The Twisted Florin details the incredible wartime bravery, amazing ingenuity and coincidences with daring and courage long associated with WW2 escape and evasion. It also offers fresh perspectives on the devastating personal effect of the war on servicemen and civilians, on both the home front and in occupied Europe.
An unsung hero with no sense of his own achievements just an innate sense of duty in a time of crisis – one of only a handful who came back twice. With a foreword by Air Chief Marshal Sir Stephen Hillier KCB CBE DFC ADC MA RAF, Chief of the Air Staff.
Stella Clare Marsh was born in Wallington in 1943, but was totally unaware of the war until she later realised that her lovely playroom was an Anderson Shelter put together for an entirely different purpose.
She has also lived in Ireland and South Africa; worked for Mary Quant Cosmetics, Lancôme, Aer Lingus and South African Airways; and has two grown up children. Since she retired, Stella's research for this book about her late uncle has been a major project which was only possible thanks to such generous support from a network of new contacts in France, Italy, Belgium and Britain, plus her publisher Unicorn's enormous encouragement and assistance. She now hopes the result of what became an unexpectedly challenging and revealing journey will become the very best of her lifetime's achievements.